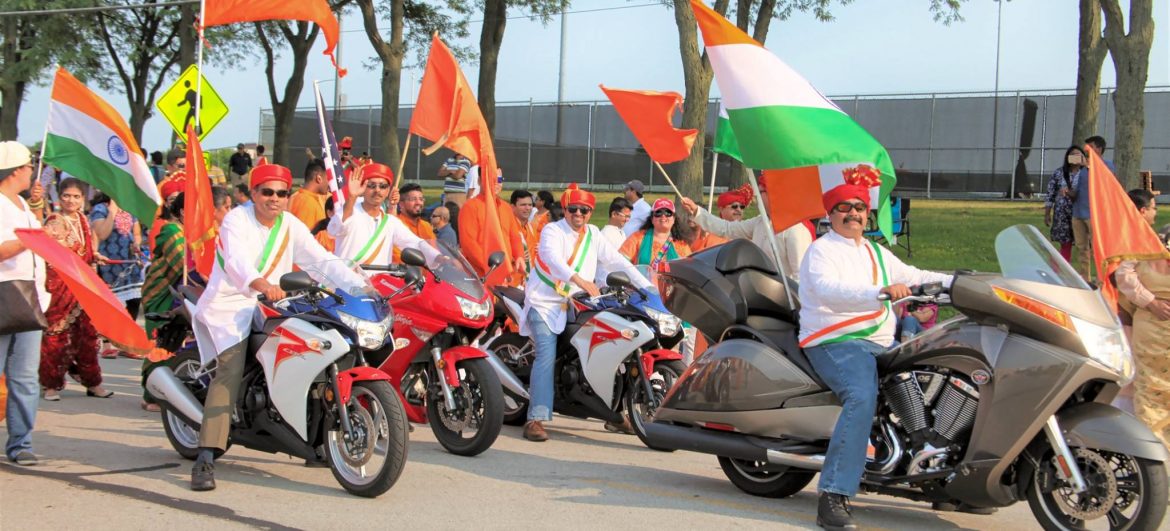 5th India Day Parade & Celebrations
EVENT
ORGANIZER
Indian Community Outreach
630.300.0345
http://www.indiancommunityoutreach.org/
FREE ENTRY TO PUBLIC
Indian Fashion Show – Get a glimpse of the latest trends in Indian wedding & party wear
dresses, other clothing and jewelry. Exotic fashions and ethnic wear
will be featured on the ramp by gorgeous models.
One Mile Festival Parade – A mile long, two hour vibrant and festive procession with ~100
colorful floats and performances representing the community, commerce and cultural diversity of Indian Americans.

Bollywood Performer – Live concert by the zestful celebrity performer "Sunidhi Chauhan" will make
everyone dance. Over two and half hours of non-stop fun headlined by the powerhouse entertainer with her full band from Bollywood.
Colorful Fireworks – There is no better way to end a perfect summer concert night than with fireworks. First time in India Day
Celebrations, there will be a 10 min firework show to mark the 70th Anniversary of Indian Independence.
International Food Court – Indian food is lauded for its curries, flavorful spices and
complex flavor pairings. Along with Indian food, we will have
other cuisines from neighboring restaurants as well.
Ethnic Indian Bazaar – The colors, the sense of organized chaos, the new vying for
attention with the old .. it all makes India's bazaars enthralling
and overwhelming experiences. We intend to bring those colors
to our part of the world with exotic clothing and jewelry.
Children's Park – A play area for kids with fun and education as the highlight.
Bouncing houses, petting zoo, face painting, educational
activities will be available to engage &entertain our young ones.
Local Talent Show – Performances showcasing the best of the local achievers will be part of high quality show. Singing, dancing
& music performed by local community will be cheered on by families, neighbors, volunteers, & sponsors.