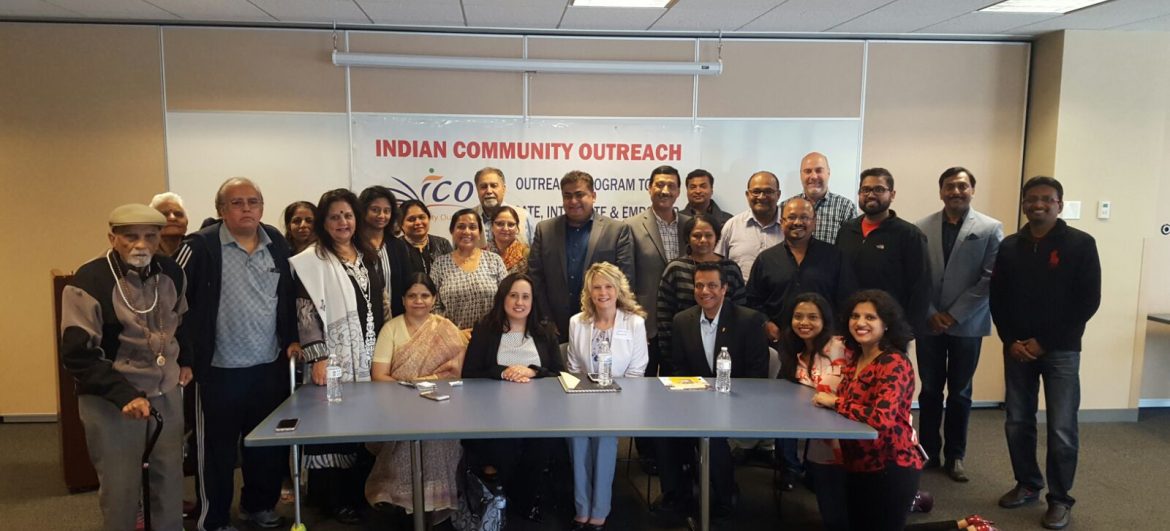 Our Dreams – Through Kids?
ICO holds forum to discuss the cause and prevention of over-expectations and stress in our children
Naperville, IL – May 27, 2017: Indian Community Outreach (ICO) hosted the interactive forum "Our Dreams – Through Kids?" as part of their series "Conversations". Held at Naperville Municipal Center, this forum was well attended, very successful and was moderated by TV Host Vandana Jhingan. The panelists included Dr. Viji Susarla, Child Psychologist, Ivette Dubiel – Director of Educational Equity School District 204, Jennifer Donatelli – Director of Curriculum and Instruction School District 203 and Naish Shah – Second-Generation Indian American. With discussions Queries, concerns and questions by attendees Panelists answered them very well. It was very Informative and eye opener session. Krishna Bansal, the Chairman of ICO welcomed everyone and explained the need for having this discussion. "This ' Conversations' is to discuss and ask questions from experts regarding challenges and expectations that parents have from Kids. As parents, are we realistic or are we trying to make them super kids or expecting to live our dreams through them? Is this a new norm and is this OK? How does it impact the youth in their development and growth? We need to seriously think and discuss these important questions with experts" said Bansal.
Vandana Jhingan, while moderating explicated "Parenting is the ultimate long-term investment. From the day child is born to the day he is educated and well established and even longer it is a constant practice around the world to have goals of ensuring children's health and safety, preparing children for life as productive adults and transmitting cultural values. With high-quality expectation from our child are we expecting too much from our kids? Parents may wish for kids to fulfill their unfulfilled dreams through our kids by putting pressure on them with the expectation to succeed and excel in Academics, Sports Music, and arts? This is what the topic of discussion at Conversations with ICO to educate and empower the people".
Dr. Viji said if you must choose between academic success and resilience, then choose resilience that the most important skills. Don't be overprotective. They are smart. Grades are not that important. Those who have failed or school dropouts are running the world and those with A+ are working for them.  Panelist Naish Shah while answering a question emphasized that as we try our marriage to work through adjustments and through give and take the relationship that's how you work with your child. Do the best you can do and leave the rest. Jennifer Donatelli & Ivette Dubiel explained the new standards announced by State for Social and Cultural needs. They emphasized on communications amongst us teachers, schools, communities are very important. Discussions revolved around identifying the fine line on motivating versus pushing children for career and extracurricular activities. A few of the important topics discussed were Social and emotional aspect in school that helps kids in shaping up, key for all the problems is communications, talk to children generally without any hidden agenda, appreciate the success and not always
criticize, need to have different programs for first-generation immigrant kids then treating them with general diversity programs, build the relationship as a parent-teacher-student, drawing
boundaries for extreme situations, pushing vs advice on career and life and many more Naperville City Council member John Krummen was a special guest.
The event was attended by a diverse group of parents and children. The members of ICO Board and ICO Organizing team Krishna Bansal, Dharmisth Patel, Vinod Vasisth, Shree Gurusamy, Shishir Jain, Ashfaq Syed, Preeti Jani and Meghna Bansal attended and volunteered. The recording of this session is available at www.indiancomuityoutreach.org. ICO's Ideation and Intellection Forums are being hosted every other month to explore various topics. ICO is a non-profit 501(c) 3 organization initiated in 2013 by Naperville Mayor A. George Pradel and
helps foster connections with residents of varied and diverse cultural backgrounds. Originations mission is to embrace, preserve and promote the cultural heritage and contributions of Indian Americans while educating them to get involved in America's growth. The vision is to form and be part of an all-inclusive society while contributing towards the betterment of our great country and our next generation. More information about ICO and their upcoming events including participating/sponsoring details are available at the ICO website www.indiancommunityoutreach.org or by calling 630.300.0345.